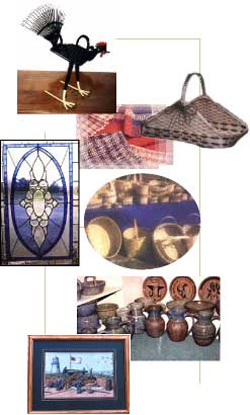 Exhibitors from all over

Calico Fort began as a dream by a group of local citizens who desired to promote our small town, to create an interest which would draw visitors, and develop an outstanding Arts and Crafts festival. A number of possible themes were considered but, considering our historical background, Calico Fort was selected.

A life long resident of Fort Deposit wrote the poem Calico Capers in anticipation of its success.

One of the local citizens volunteered the use of a pine thicket on her property for the show. And the work began, everyone was invited to help clear the brier bushes, the kudzu vines, limbs, pine cones and debris. A fence, reminiscent of an old fort and an Indian teepee were constructed, along with an assortment of rustic buildings to be used for the food concessions and even some exhibitors.

155 exhibitors accepted our invitation to be part of the first Calico Fort on April 8 and 9, 1972. The Bill Board, on the left, depicts the advertisement which was displayed that year. This sign, near the I-65 Exit, is updated each fall in an effort to help our visitors plan for the next event.

An estimated 5000 visitors responded that first year with enthusiasm to the invitation to enjoy an old time country fair complete with demonstrations and illustrations to amuse visitors, whether a toddler, teen or old time fair lover.
The first show included a variety of arts, handmade crafts and antiques. Demonstrations delighting the fair-goers included a glass blower and a weaver who operated her loom. Ceramics, candles and jewelry were made on the spot and portraits were sketched for those who were just a little patient.
155 exhibitors accepted our invitation to be a part of our first Calico Fort in 1972 and the list continues to grow.

If you are interested in becoming an exhibitor at Calico Fort, please go to our Exhibitor Information page for an application.

2024 Exhibitor Listing
| | | | | | | | |
| --- | --- | --- | --- | --- | --- | --- | --- |
| . | Andrews | Maryann | Red Level | AL | Woodworking, Scroll Saw Art, Kitchen Utensils, Signs, Home Decor, etc | | . |
| . | Anthony | Voncile | Montgomery | AL | Clothing and Accessories for Children | | . |
| . | Barfoot | Gaye | Billingsley | AL | Metal Drcor, Fire Pits, Yard Stakes | | . |
| . | Barnes | Harold | Red Level | AL | Honey, Jelly, Dips | | . |
| . | Black | Wayne | Hope Hull | AL | Woodwork | | . |
| . | Britt | Alma | Trenton | GA | Leather Goods | | . |
| . | Brown | Rosemary | Birminghan | AL | Clothes and Accessories, Hair Bows, Headbands, Crochet Items | | . |
| . | Cole | Brenda | Greenville | AL | Smoked and Infused Seasalts and Homemade Extracts | | . |
| . | Coleman | Mark & Andy | Greenville | AL | Wooden Puzzles and Wooden Flags | | . |
| . | Crawford | Norris | Greensboro | AL | Leather | | . |
| . | Gaines | Adrienne | Montgomery | AL | Photographic Art | | . |
| . | Gamble | Tommy | Letohatchee | AL | Wooden Bowls | | . |
| . | Gray | Tanya | Gadsden | AL | Laser Engraved Wood, Leather and Acrylic | | . |
| . | Langley | Clint | Opelika | AL | Handmade Knives | | . |
| . | Lawrence | Will | Montgomery | AL | Sublimated Tumblers, Errings, Magnets, Keychains, Ornaments | | . |
| . | Lightsey | J S | Marion Junction | AL | Woodwork, Music Boxes, Bird Houses and Feeders | | . |
| . | Masoner | Shirley | Troy | AL | Leaners, Door Hangers, Framed Art, Door Tags | | . |
| . | Miles | Sandra | Montgomery | AL | Handmade Childrens Clothing, Home Decor, Vintage Cjenille Bedspreads & Antique Linens | | . |
| . | Nata | Jodie | Ramer | AL | Pet Treats Made From Farm Raised Hens | | . |
| . | Norris | Rebecca | Sweetwater | AL | Wooden Door Hangers, Lanterns, Toys etc; Embroidered Baby Items | | . |
| . | Snellgrove | Brad | Prattville | AL | Bird Hoses and Painted Glass | | . |
| . | Sprayberry | Tiffany | Ashland | AL | Cheese Straws | | . |
| . | Stroud | Karen | Auburn | AL | Handjmade Infant & Toddler Clothing, Heirloom, Applique, Monogram | | . |
| . | Thompson | David | Danville | AL | Metal Work | | . |
| . | Webb | Kathleen | Navarre | FL | Painting, Drawing, Epoxy Coasters | | . |
| . | Wilson | Antionette | Maplesville | AL | Kettle Corn | | . |
| . | | | | | | | . |