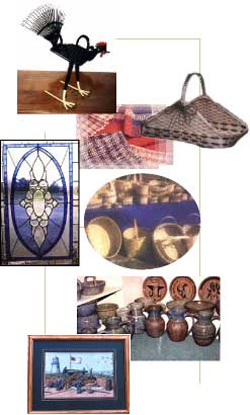 Exhibitors from all over

Calico Fort began as a dream by a group of local citizens who desired to promote our small town, to create an interest which would draw visitors, and develop an outstanding Arts and Crafts festival. A number of possible themes were considered but, considering our historical background, Calico Fort was selected.

A life long resident of Fort Deposit wrote the poem Calico Capers in anticipation of its success.

One of the local citizens volunteered the use of a pine thicket on her property for the show. And the work began, everyone was invited to help clear the brier bushes, the kudzu vines, limbs, pine cones and debris. A fence, reminiscent of an old fort and an Indian teepee were constructed, along with an assortment of rustic buildings to be used for the food concessions and even some exhibitors.

155 exhibitors accepted our invitation to be part of the first Calico Fort on April 8 and 9, 1972. The Bill Board, on the left, depicts the advertisement which was displayed that year. This sign, near the I-65 Exit, is updated each fall in an effort to help our visitors plan for the next event.

An estimated 5000 visitors responded that first year with enthusiasm to the invitation to enjoy an old time country fair complete with demonstrations and illustrations to amuse visitors, whether a toddler, teen or old time fair lover.
The first show included a variety of arts, handmade crafts and antiques. Demonstrations delighting the fair-goers included a glass blower and a weaver who operated her loom. Ceramics, candles and jewelry were made on the spot and portraits were sketched for those who were just a little patient.
155 exhibitors accepted our invitation to be a part of our first Calico Fort in 1972 and the list continues to grow.

If you are interested in becoming an exhibitor at Calico Fort, please go to our Exhibitor Information page for an application.

2019 Exhibitor Listing
.
Adams
Charles & Mary
Troy
AL
Stained Glass, Boiled & Roasted Peanuts, Homemade Candy
.
.
Andrews
Kevin & Maryann
Red Level
AL
Woodworking, Native American Jewelry
.
.
Atkins
Richard
Tallassee
AL
Bladesmith and Blacksmith
.
.
Barday
Louise
Leesburg
AL
Bungy Jump
.
.
Barfoot
Gaye
Billingsley
AL
Metal Home Decor
.
.
Barnes
Harold
Red Level
AL
Canned Goods - Jelly
.
.
Bein
John & Debbie
Pell City
AL
LED Lights, Crystal Sun Catchers, Bird Feeders, Bare Foot Sandals
.
.
Benefield
Terry
Heflin
AL
Decorative Wrought Iron, Bird Houses
.
.
Bennett
Kendra
Daphne
AL
Paper Cuts
.
.
Black
Leigh
Hope Hull
AL
Handmade Bath and Body Products
.
.
Black
Wayne and Maxine
Hope Hull
AL
Woodwork
.
.
Boatwright
Tom
Peterman
AL
Pork Skins - Homemade Cooking
.
.
Bowdoin
Kathy
Montgomery
AL
Handcrafted Jewelry with Magnetic Snap
.
.
Bradley
Dott
Monroeville
AL
Sculptured Trees, Topiary Plants and Annuals
.
.
Britt
Alma
Trenton
GA
Leather Goods
.
.
Brown
Cathy & Mike
Grady
AL
Candles, Spa Items
.
.
Burch
William & Deb
Fort Mitchell
AL
Bottle Cap Necklaces & Bottle Cap Pet Scarfs & Signs
.
.
Carr
Jessica
Headland
AL
Woodworks, Wall Art, Coasters, Ornaments, Small Furniture
.
.
Coleman
Mark & Andy
Greenville
AL
Scroll Saw Artist - Puzzles, Ornaments, etc
.
.
Crawford
Norris
Greensboro
AL
Leather
.
.
Croley
Mary
Greenville
AL
Paintings and Note Cards
.
.
Davenport
Dan
Millington
MI
Hand-hammered Aluminum Giftware
.
.
Davis
Mike
Brantley
AL
Pottery
.
.
Dennis
Skeet
Coosada
AL
Beauty Supply - All Natural Beeswax Lotion, Soaps, etc
.
.
Duren
Richard
Trussville
AL
BBQ Sauce, Seasonings, Jerky, Meat Sticks
.
.
Foster
Deborah
Prattville
AL
Fused Glass, Mosaics
.
.
Gamble
Tommy
Millbrook
AL
Hand Turned Wooden Bowls
.
.
Gresham
Karen
Opelika
AL
Wreaths
.
.
Griffith, Wanda &
Diana Ward
Wetumpka & Daphne
AL
Handmade Jewelry made from Broken China, Beads and Wire; and Handmade Wooden Crosses
.
.
Grimes
Elizabeth
Millbrook
AL
Art Prints, Greeting Cards, Vinyl Stickers Printed from Original Artwork
.
.
Guffey
Hollie
Steele
AL
Potato Candy, Sweets, etc
.
.
Hart
Toni
Prattville
AL
Dream Catchers, Antler Art and Gourds
.
.
Hill
Carl
Prattville
AL
Scroll Saw Art
.
.
Ivey
Willie
Montgomery
AL
Planters
.
.
Jamison
Christina
Montgomery
AL
Goat Milk Caramels, Soap, Lotion
.
.
Johnson
Mary
Brundidge
AL
Wood Crafts
.
.
Johnston
Robin
Jemison
AL
Copper and Brass Jewelry
.
.
Kelley
Julie
Jasper
AL
Candles, Wax Melts and Warmers
.
.
Levell
Roger & Sally
Foley
AL
Handmade Wooden Musical Instruments
.
.
Lightsey
Joe
Marion Junction
AL
Woodwork, Bird Houses, Feeders, Music Boxes
.
.
Mitchell
Callie
Prattville
AL
Pillows and Stitched Crafts
.
.
Moore
Loretta
Jacksonville
AL
Wooden Trays, Paint Chip Canvas Art
.
.
Newton
Christy
Prattville
AL
Small Art Canvas, Pottery
.
.
Proveaux
Juanita
Greenville
AL
Textiles, Place Mats, Pillows, etc
.
.
Rathel
Derek
Pensacola
FL
Grapevine Florals
.
.
Richardson
John
Tuskegee
AL
Custom Carved Name Signs, Hand Painted Signs, Bird Houses
.
.
Royals
Vincent
Montgomery
AL
Shaved Ice
.
.
Rushton
Denise
Valley Grande
AL
Homemade Jams and Jellies
.
.
Rushton
Jamie
Montgomery
AL
Tables, Cutting Boards, Serving Trays, Home Decor
.
.
Sarblah
Carolyn
Greenville
AL
Kids Inflatables
.
.
Shiffer
Antje
Montgomery
AL
Jewelry
www.facebook.com/antjeshifferjewelr
.
.
Shumate
Bill and Lee
Sondheimer
LA
Soups, Dips, Muffin and Cheese Ball
.
.
Snellgrove
Brad
Prattville
AL
Bird Hoses and Painted Glass
.
.
Sprayberry
Tiffany
Ashland
AL
Cheese Straws
.
.
Thompson
Cindy
Millbrook
AL
Crochet Hats and Purses, Baby Items
.
.
Thompson
David
Danville
AL
Ironworks
.
.
Thrash
Rex
Troy
AL
Wood Work
.
.
Tingle
Tim
Montevallo
AL
Carved Golf Balls, Cedar Carvings, Walking Sticks
.
.
Waldrop
Jim & Carol
Clanton
AL
Unique Silverware Jewelry
.
.
Waltens
Carmen
Sarasota
FL
Air Brush Tattoos and Face Painting
.
.
Wilson
Antionette
Maplesville
AL
Kettle Korn
.
.
Woodson
Amanda
Opelika
AL
Painted Farmhouse Signs
.