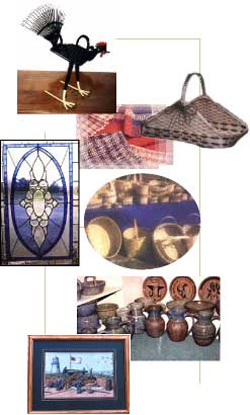 Exhibitors from all over

Calico Fort began as a dream by a group of local citizens who desired to promote our small town, to create an interest which would draw visitors, and develop an outstanding Arts and Crafts festival. A number of possible themes were considered but, considering our historical background, Calico Fort was selected.

A life long resident of Fort Deposit wrote the poem Calico Capers in anticipation of its success.

One of the local citizens volunteered the use of a pine thicket on her property for the show. And the work began, everyone was invited to help clear the brier bushes, the kudzu vines, limbs, pine cones and debris. A fence, reminiscent of an old fort and an Indian teepee were constructed, along with an assortment of rustic buildings to be used for the food concessions and even some exhibitors.

155 exhibitors accepted our invitation to be part of the first Calico Fort on April 8 and 9, 1972. The Bill Board, on the left, depicts the advertisement which was displayed that year. This sign, near the I-65 Exit, is updated each fall in an effort to help our visitors plan for the next event.

An estimated 5000 visitors responded that first year with enthusiasm to the invitation to enjoy an old time country fair complete with demonstrations and illustrations to amuse visitors, whether a toddler, teen or old time fair lover.
The first show included a variety of arts, handmade crafts and antiques. Demonstrations delighting the fair-goers included a glass blower and a weaver who operated her loom. Ceramics, candles and jewelry were made on the spot and portraits were sketched for those who were just a little patient.
155 exhibitors accepted our invitation to be a part of our first Calico Fort in 1972 and the list continues to grow.

If you are interested in becoming an exhibitor at Calico Fort, please go to our Exhibitor Information page for an application.

2018 Exhibitor Listing
.
Adams
Charles & Mary
Troy
AL
Stained Glass & Candy
www.charlesadamsglass.com
.
.
Adams
Phillip
Fort Deposit
AL
Wood Work
.
.
Alexander
Edna
Tuskegee
AL
Handmade Wood Products, Religious Signs, Jars, Flags
.
.
Alexander
Carrie
Moody
AL
Soap, Bath Bombs, Sugar Scrub, Beard Oil, Lotion
.
.
Andrews
Kevin & Mary Ann
Red Level
AL
Woodwork - Turning & Scroll Saw Work
.
.
Atkins
Richard
Tallassee
AL
Bladesmithing (Knives), Crosses, Cross Door Knocker
.
.
Barday
Louise
Leesbury
AL
Bungy Jump
.
.
Barfoot
Gaye, Felicia Swanner
Billingsley
AL
Metal Home Decor, Firepits, Metal Signs
.
.
Barnes
Harold
Red Level
AL
Canned Goods - Jelly
.
.
Bayman
Duane
Brundidge
AL
Antiques
.
.
Beaird
Pam
Pike Road
AL
Southern Gourmet Food
.
.
Bein
Deborah
Pell City
AL
LED Lights, Windchimes, Bird Feeders, Barefoot Sandals, Boot Bracelets
www.facebook.com/costallghts.creati
.
.
Benefield
Terry
Heflin
AL
Outdoor Art Metal
.
.
Berdeaux
Jim
Wetumpka
AL
Sauces and Seasonings
.
.
Black
Wayne & Maxine
Hope Hull
AL
Wood Work
.
.
Black
Leigh
Hope Hull
AL
Handmade Soaps and Body Products
www.thelavenderpig.com
.
.
Boatwright
Tom
Peterman
AL
Pork Skins - Homemade Cooking
.
.
Bowdoin
Kathy
Montgomery
AL
Handmade Beaded Magnetic Jewelry
www.fachionmagnetics.com
.
.
Bowman
Tommy & Kaye
Greenville
AL
Handcrafted Jewelry, Woodwork, Handpainted Signs, Wood Gameboards
tkbowman@centurytel.net
.
.
Boyd
Rachel
Chapman
AL
Artist
.
.
Bradford
Pam
Castleberry
AL
Soy Waxed Candles
Bluegoosesoycandles on Facebook
.
.
Bradley
Dott
Monroeville
AL
Plants
.
.
Britt
Fred & Alma
Trenton
GA
Leather, Leather Crafts
.
.
Brown
Cathy
Grady
AL
Candles, Spa Items
.
.
Bucak
Brittney
Montgomery
AL
Freshwater Pearls and Leather Jewelry
.
.
Burch
William & Deb
Fort Mitchell
AL
Bottle Cap Necklaces & Bottle Cap Pet Scarfs & Signs
.
.
Coleman
Mark
Greenville
AL
Wood Work
www.esty10m/Colemanandsons
.
.
Cowart
Todd
Cartersville
GA
Cemetary Design
.
.
Crawford
Norris
Greensboro
AL
Handcrafted Leather Items
.
.
Crist
Ruth
Huey Town
AL
Wooden Crosses and Wreaths
.
.
Croley
Mary White
Greenville
AL
Paintings, Note Cards
.
.
Davis
Mike
Brantley
AL
Pottery - Wheel Turned & Hand Built, Stonework
www.mikedavispottery.com
.
.
Dennis
Skeet
Coosada
AL
Beauty Supply - All Natural Beeswax Lotion, Soaps, etc
.
.
Dewberry
Sylvia
Greenville
AL
Photography
.
.
Drivas
Nicholas
Troy
AL
Metal Art, Plasma Work
.
.
Dubose
Donna
Andalusia
AL
Vintage Wreaths, Distressed Windows, Old Tin Decor
.
.
Duren
Richard
Trussville
AL
Family Recipe BBQ Seasonings, Sauces, Beef Jerky, Gift Sets
www.perfectbitebbq.com
.
.
Dylewski
Kaite & Brian
Waverly
AL
Jewelry, Tie Dye, Resin Cast Energy Devices
www.soullightstars.com
.
.
Emmett
Mariah
Fort Payne
AL
Repurposed Items
.
.
Ensley
Richard
Weaver
AL
Soy Candles
.
.
Foster
Deborah
Prattville
AL
Wine Bottle Crafts, Fused Glass, Mosaics
.
.
Gamble
Tommy
Letohatchee
AL
Wood Bowls
.
.
Greene
Cecilia
Maplesville
AL
Handmade Children Clothing
.
.
Guffey
Hollie
Steele
AL
Potato Candy, Sweets, etc
.
.
Gunter
Melissa
Fort Deposit
AL
Woodwork, Hair Bows, Hairbow Holders, Crochet Blankets
.
.
Hall
Nikki
Troy
AL
Home Decor made with Recycled Wood, Flowers and other materials, Jewelry
.
.
Hart
Toni
Prattville
AL
Handmade Decorator Art - Antrieer, Horseshoe, Wallaning from Vintage Lace to Antlered Muslin, Camouflage and Driftwood Dream Catchers, Gourds
.
.
Hester
Sherry
Millbrook
AL
Jewelry
.
.
Hill
Carl
Prattville
AL
Handcrafted Scroll Saw
.
.
Ivey
Willie
Montgomery
AL
Woodcrafted Hanging & Sitting Flower Planters
.
.
Jamison
Christie
Montgomery
AL
Goat Milk Caramels & Sauce
www.thefoxpointfarm.com
.
.
Jenkins
Charlene
Fort Worth
TX
Baby Chair Harness, Placemats
.
.
Johnston
Robin
Jamison
AL
Jewelry & Decor
.
.
Kelley
Julie
Jasper
AL
Jar Candles, Wax Melts, Warmers
.
.
Kromer
Laloni
Childersburg
AL
Jewelry, Cedar Footballs, Cold/Hot Packs, Coolties, Candles, Laser Items
www.hematitejewelryandgifts.com
.
.
Kynard
Steve & Janet
Titus
AL
Tree Faces
www.alabamatreefaces.com
.
.
Ledbetter
James & Tracy
Opelika
AL
Jewelry
.
.
Lightsey
J. S.
Marion Junction
AL
Bird Houses
.
.
Maxwell
Ricky
Montgomery
AL
Wood Bowls, Turned Boxes, Cutting Boards, Wood Spoons
.
.
McElvaine
Chris
Tallassee
AL
Pottery
www.fleahoppottery.com
.
.
Mitchell
Callie
Elmore
AL
Pattern Stitched Pillows
.
.
Mize
Elizabeth
Northport
AL
Etched Glassware
.
.
Nickelon
Melinda & Elgin
Vance
AL
Glass Chimes, Bird Feeders
.
.
Oliver
Frank
Montgomery
AL
Wooden Toys & Furniture
.
.
Porter
Turner
Eclectic
AL
Wooden Bowls, Cutting Boards, Trays, Scroll Saw Art
.
.
Powell
Harold
Greenville
AL
Coins
.
.
Proveaux
Juanita
Greenville
AL
Textiles, Placemats, Pillows, Towels, Quillows, Bibs, Bags, Baby Blankets
.
.
Rathel
Derek
Pensacola
FL
Grapevine Florals
.
.
Richardson
John
Tuskegee
AL
Wood Custom Carved Signs, Bird Houses, Benches
.
.
Royals
Vincent
Montgomery
AL
Italian Water Ice
.
.
Russell
Heather
Pike Road
AL
Hand Painted and Sewn Canvas & Burlap Doorhangers and Ornaments
.
.
Russell
Tiffany
Alex City
AL
Paper Craft, Sweets
.
.
Sanders
Mike
Vance
AL
Woodwork, Puzzles, etc
.
.
Sarblah
Carlyn
Greenville
AL
Air Jump
.
.
Shiffer
Antje
Montgomery
AL
Jewelry
www.facebook.com/antjeshifferjewelr
.
.
Shirley
Sheila
Pinckard
AL
Jewelry and Crafts made from Vintage Flatware and other Kitchen Items
www.alabamatreefaces.com
.
.
Shumate
Bill & Lee
Tallulah
LA
Soup, Dip & Pie Mixes
.
.
Smedley
Brian
West Point
GA
Airbrush Signs
.
.
Snellgrove
Brad
Prattville
AL
Bird Hoses and Painted Glass
.
.
Sprayberry
Tiffany
Ashland
AL
Cheesestraws
.
.
Stinson
Janice
Greenville
AL
Children Clothing
.
.
Strickland
Lavon
Blakely
GA
Stoneware Pottery
.
.
Swann
Billy and Sandy
Jasper
AL
Hand Turned Pens, Razors, Rings, etc.
.
.
Thompson
Paul
Georgiana
AL
Knives
.
.
Thompson
David
Danville
AL
Metal
.
.
Thrash
Rex
Troy
AL
Woodwork, Birdhouses
.
.
Thwing
Dave
New Albany
IN
Wood & PVC Toys
.
.
Tillery
Allen & Sarah
Greenville
AL
Farmhouse Furniture and Accesories
.
.
Tingle
Tim
Montevallo
AL
Carved Golf Balls, Cedar Carvings, Walking Sticks
.
.
Waldrop
Jim and Carol
Clanton
AL
Unique Jewelry and Windchimes made from Vintage Silverware
www.rtcustomknives.com
.
.
Waltens
Carmen
Sarasota
FL
Air-brush Tattoos, Air-brush Face Painting, Bicycle Spoke Bracelets
.
.
Wilson
Antionette
Maplesville
AL
Kettle Korn
.
.
Wolbeck
Janet
Wetumpka
AL
Jewelry, Bath Spa Products
.