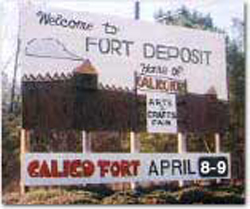 What's New at Calico Fort for 2019
Again this year our Exhibitor Committee has a GREAT NEW ATTRACTION - ANTIQUE ALLEY
The Alley will showcase a select group of real antique dealers with some outstanding items for sale.

The Calico Gang has created a very special backdrop for our Entertainers - an enclosed, lighted stage with its very own covering.

For another year Calico Fort will have its very own
LOGGING SHOW in miniature just like the one seen on TV.

INTERESTING ITEMS TO FIND: Potato Candy, Goat Milk Caramels, Pork Skins, Cheese Straws, and Kettle Korn. These items are sold by some of our Exhibitors - find them.