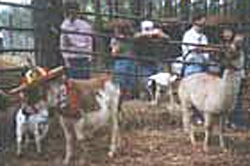 FREE Petting Zoo
No child can resist the cuddly furry creatures in the petting zoo. You may not be able to resist them either.
Included in this year's Zoo will be Peacocks, Chickens, Rabbits, Goats, Ducks and Miniature Donkeys.
The Petting Zoo is now the BOB SMITH MEMORIAL PETTING ZOO and will remain FREE for all the little ones. Bob always loved children and enjoyed watching them have fun.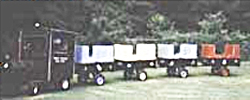 Train Rides, Inflatables, Bungy Jumps
It's always great to hear the sound of laughing children and that is what we aim for with fun activities that keeps them coming back time after time.
We want your children to have as much fun at Calico Fort as you do!